Cairo: Calm amid Chaos
A sprawling metropolis of more than 15 million people, Cairo has been the capital of Egypt for 1,000 years. Aptly named the "city of a thousand minarets", Cairo's 24/7 cacophony of street noise and veil of perpetual dust coexist with unexpected moments of utter peace and beauty.
Tahrir Square, November 2010
Prior to its role in the 2011 revolution, Tahrir earned a reputation for political demonstrations during the Egyptian Revolutions of 1919 and 1952. The iconic pink Egyptian Museum has a room dedicated to mummified animals, including cats, crocodiles, birds, monkeys, and fish.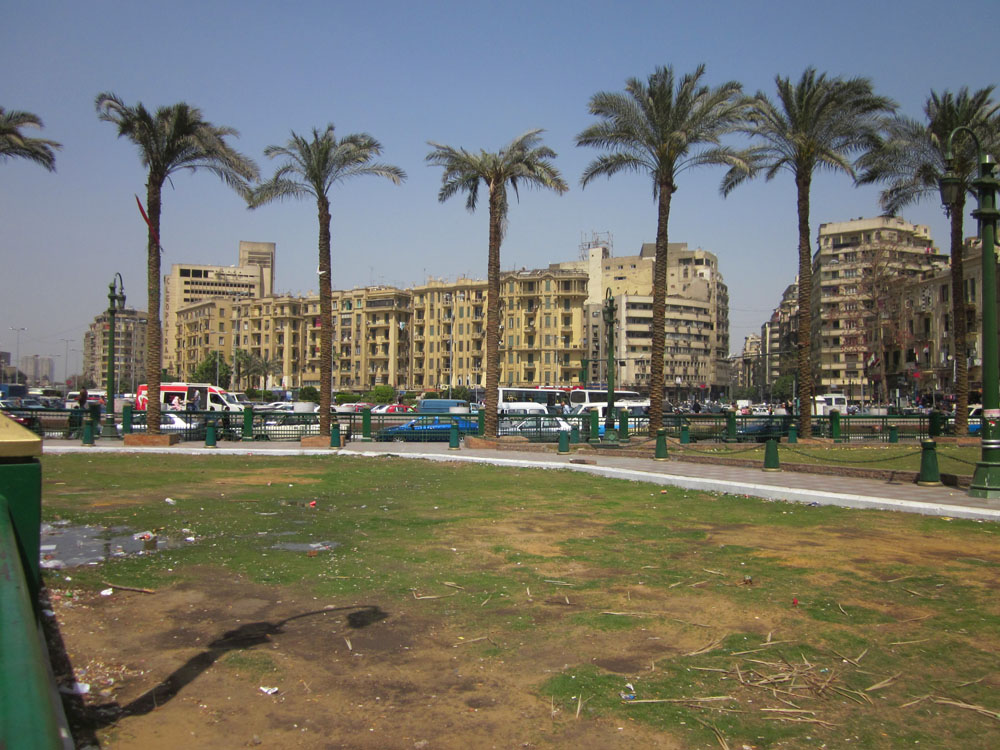 Tahrir Square, April 2011
Bruised and bedraggled after weeks of occupation, traffic resumes around Tahrir Square in the aftermath of the revolution.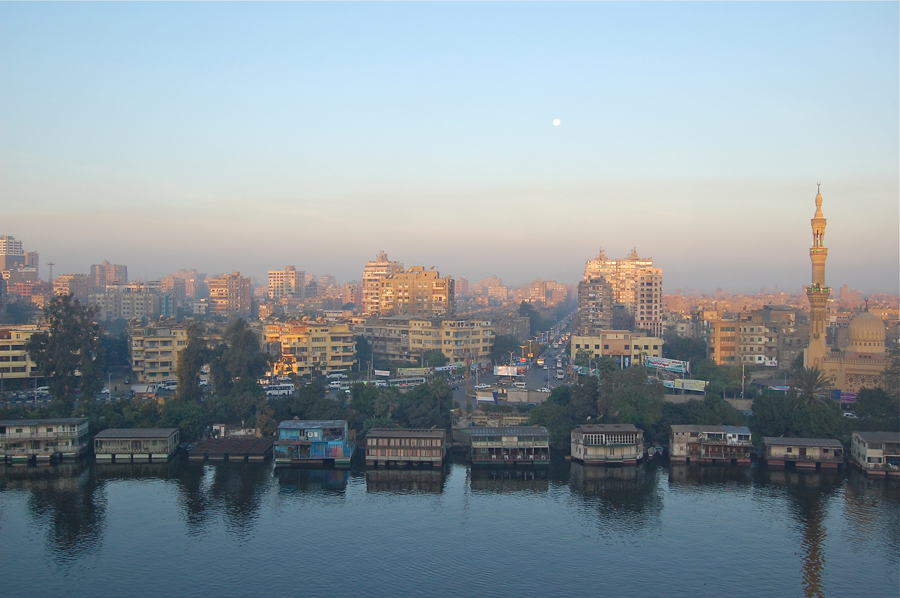 Houseboats on the Nile
The ever-present police and security forces of the Mubarak era convey a calm authority, soon to be disrupted by Egypt's Arab Spring.
Mosque of Muhammad Ali (c 1830-1848)
Rising high above the city in Sala'adin's Citadel, this landmark mosque was built in grand Ottoman style by Muhammad Ali Pasha, the first in a dynasty of rulers whose reign was pivotal in modernizing Egypt. His tomb lies within.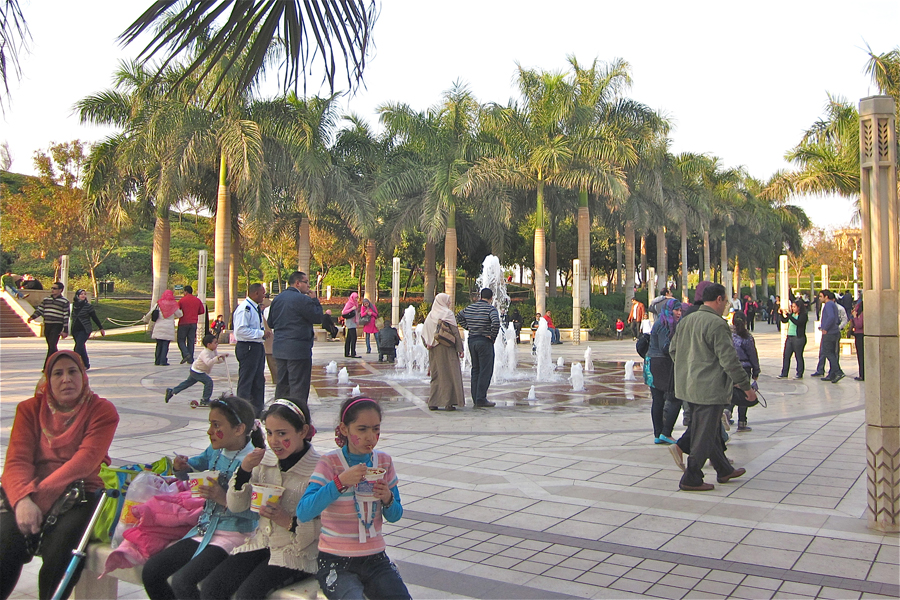 Afternoon in Al-Azhar Park
Families enjoy a reprieve from urban intensity in the relative peace and cool vegetation of Al-Azhar Park. Built on top of a garbage dump, the park is a prime example of urban green innovation and provides splendid views of the surrounding city.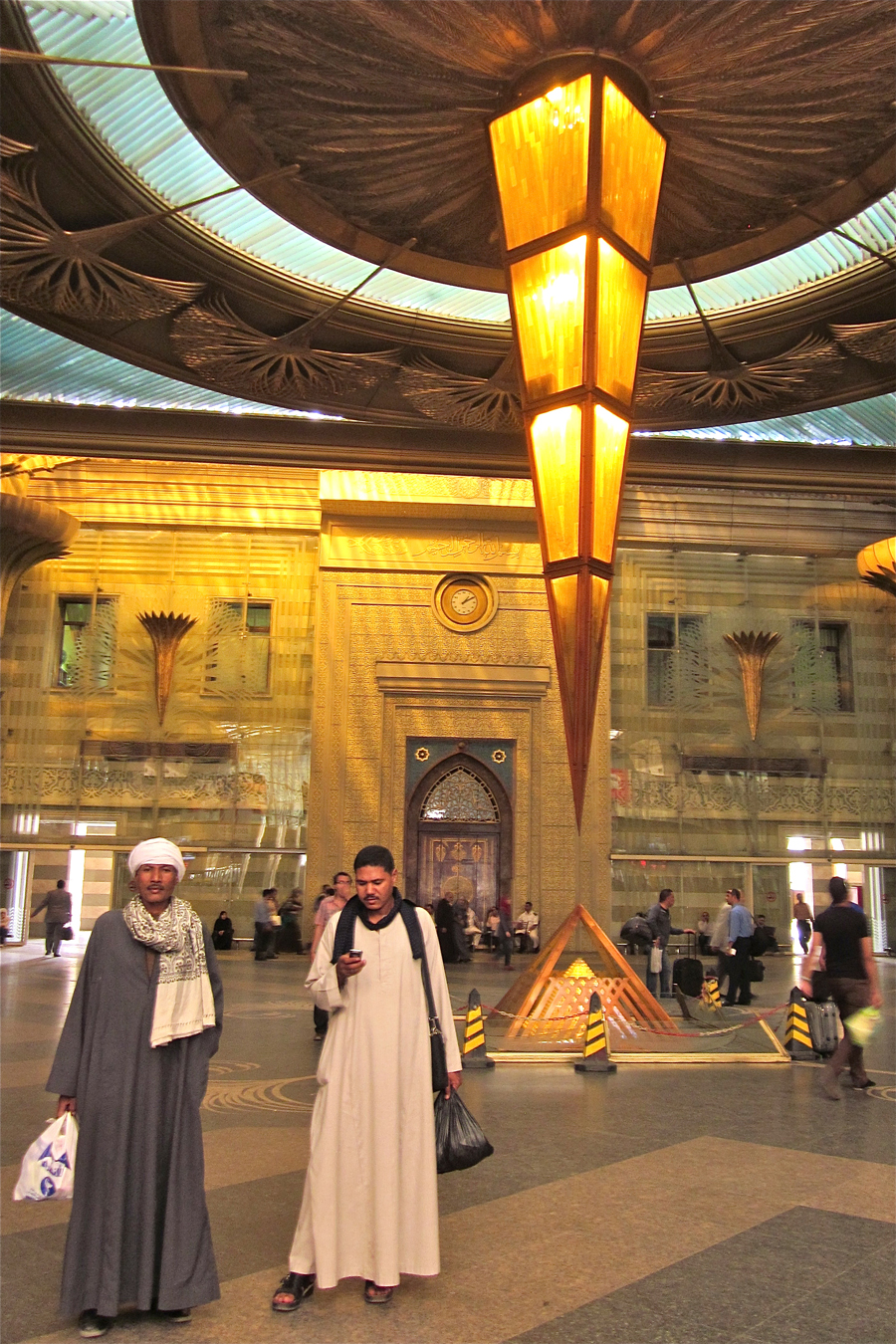 Ramses railway station
Travelers pause inside Cairo's newly renovated train station, its air-conditioned and artful ambience a respite from the churning traffic and stifling crowds of Ramses Square. The central crystalline pyramid is inscribed with the names of those who died in the 2011 uprising.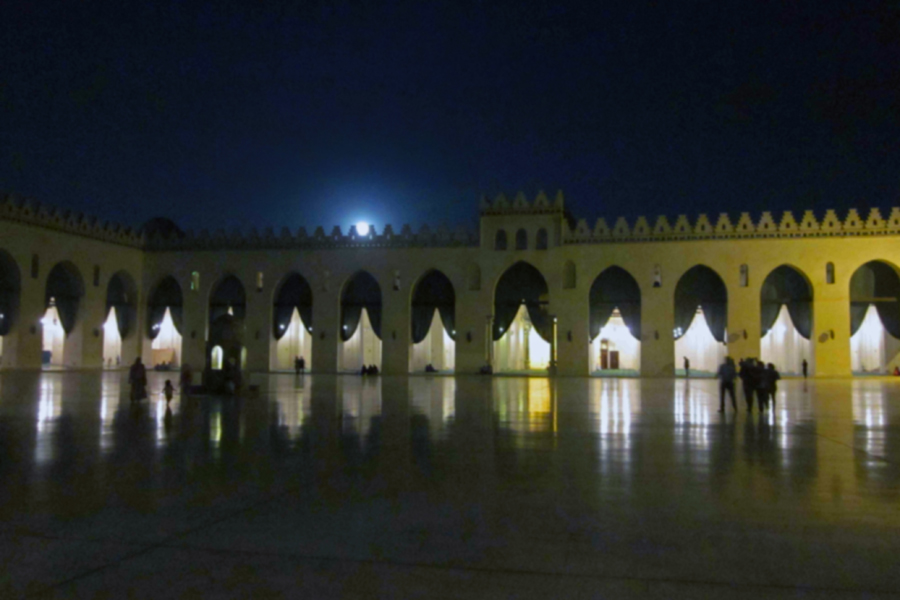 Moonrise over El-Hakim mosque (c. 990-1013)
Built in the Fatimid Era, El-Hakim mosque housed prisoners during the Crusades and Napoleon's soldiers in the 18th century. The once-crumbling structure was restored as a congregational mosque in 1980 and now draws large crowds of Friday worshippers.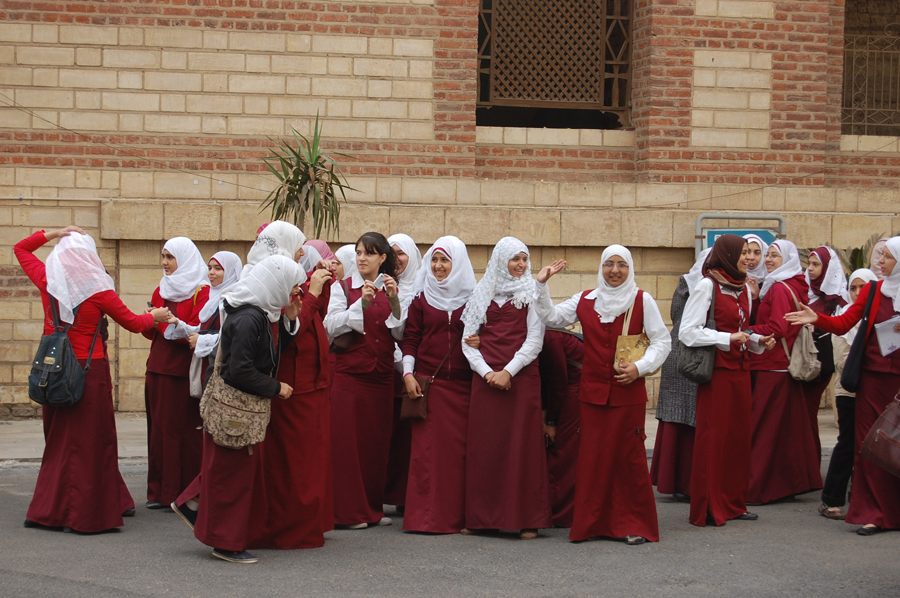 Schoolgirls on a field trip in Coptic Cairo
Old (Coptic) Cairo draws visitors to the earliest Christian, Jewish and Muslim holy sites in Egypt, including the Hanging Church of the Virgin Mary (4th century) and Ben Ezra Synagogue (9th century). Most Egyptians are Muslims, but about 10% are Coptic Christians.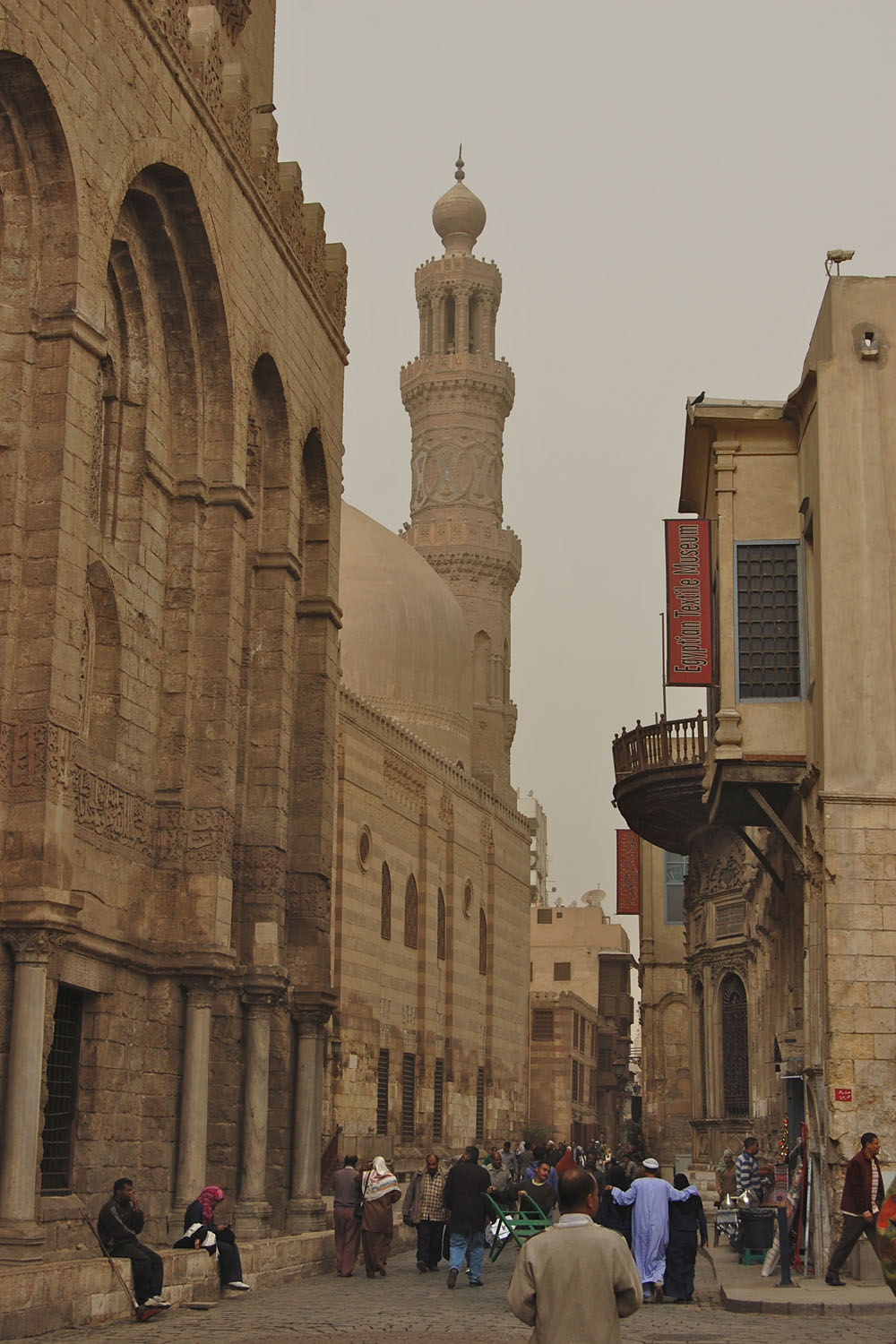 Al-Muizz Street, Islamic Cairo
One of the oldest streets in Cairo, Al-Muizz wends its way through the old walled city, lined with imposing Fatimid and Mamluk monuments, historic houses, and stone palaces.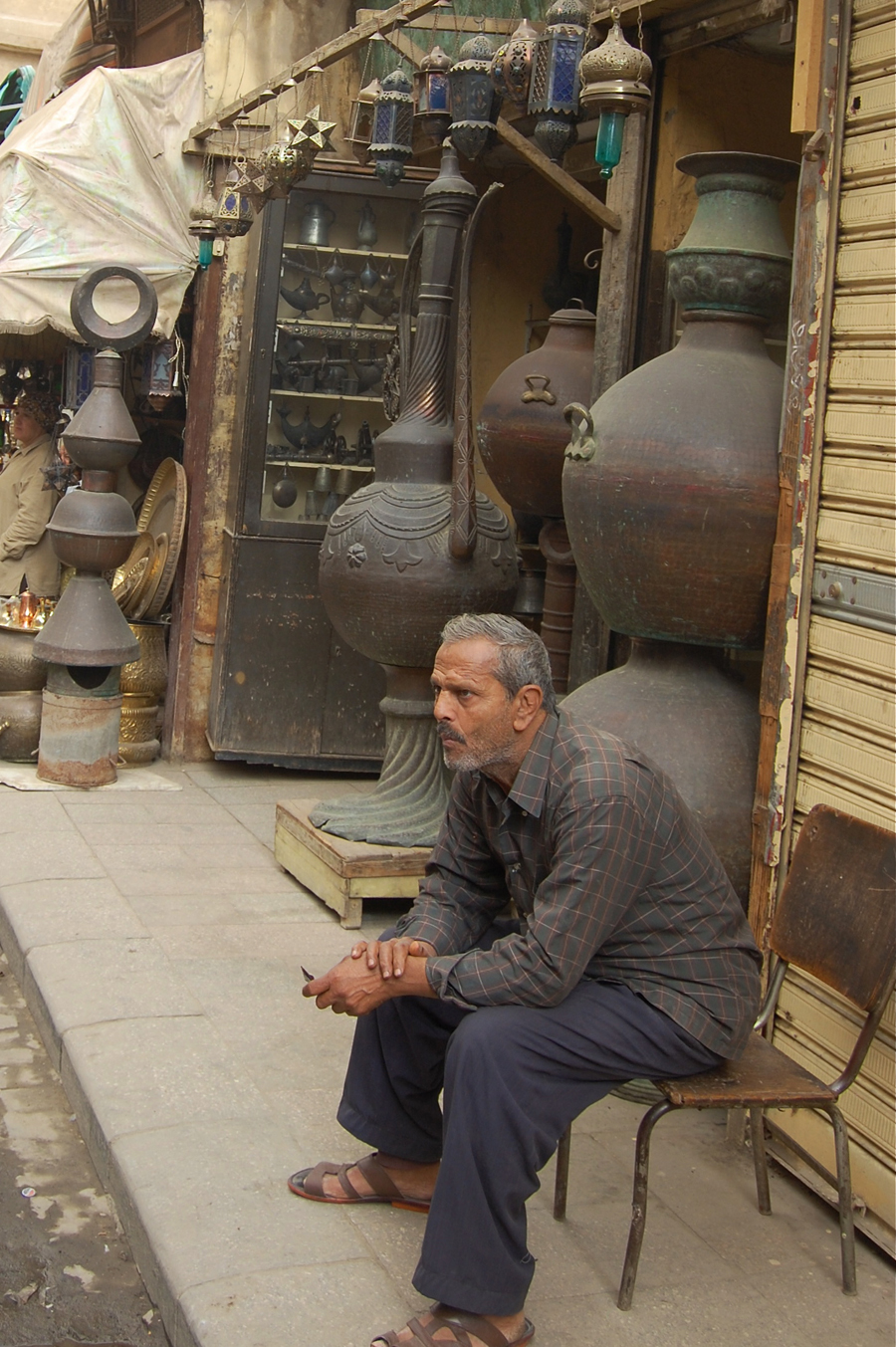 Metal merchant in the Khan el-Khalili
Egypt's once-bustling shops have been largely bereft of foreign tourists since the revolution, adding economic strain to uncertainty about the future.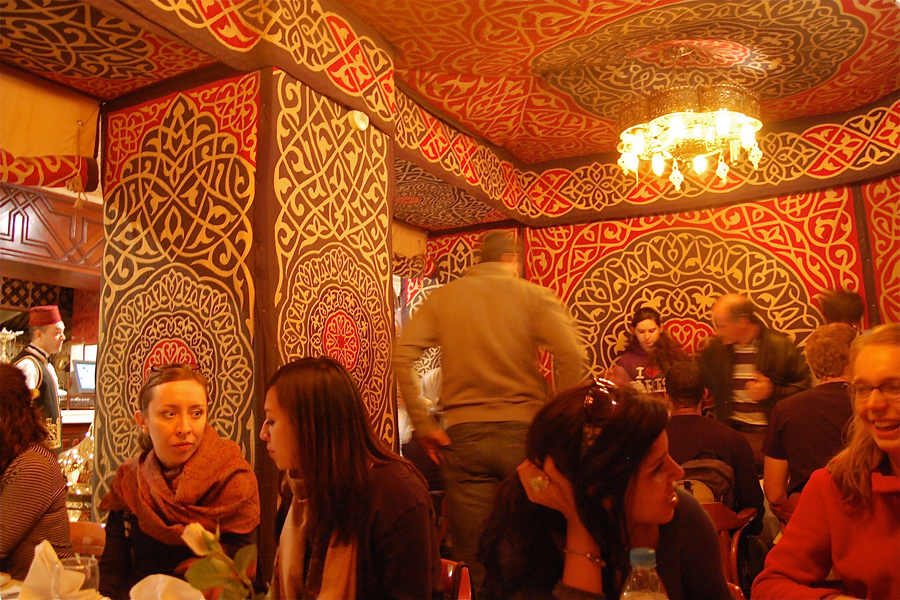 Naguib Mahfouz Café
American Fulbright students escape the heat in the cool atmospheric interior of this historic cafe where waiters sport traditional fezzes. Naguib Mahfouz (1911-2006) frequented and wrote novels about ordinary life in the cafes and neighborhoods of Cairo, winning the Nobel Prize for Literature in 1988.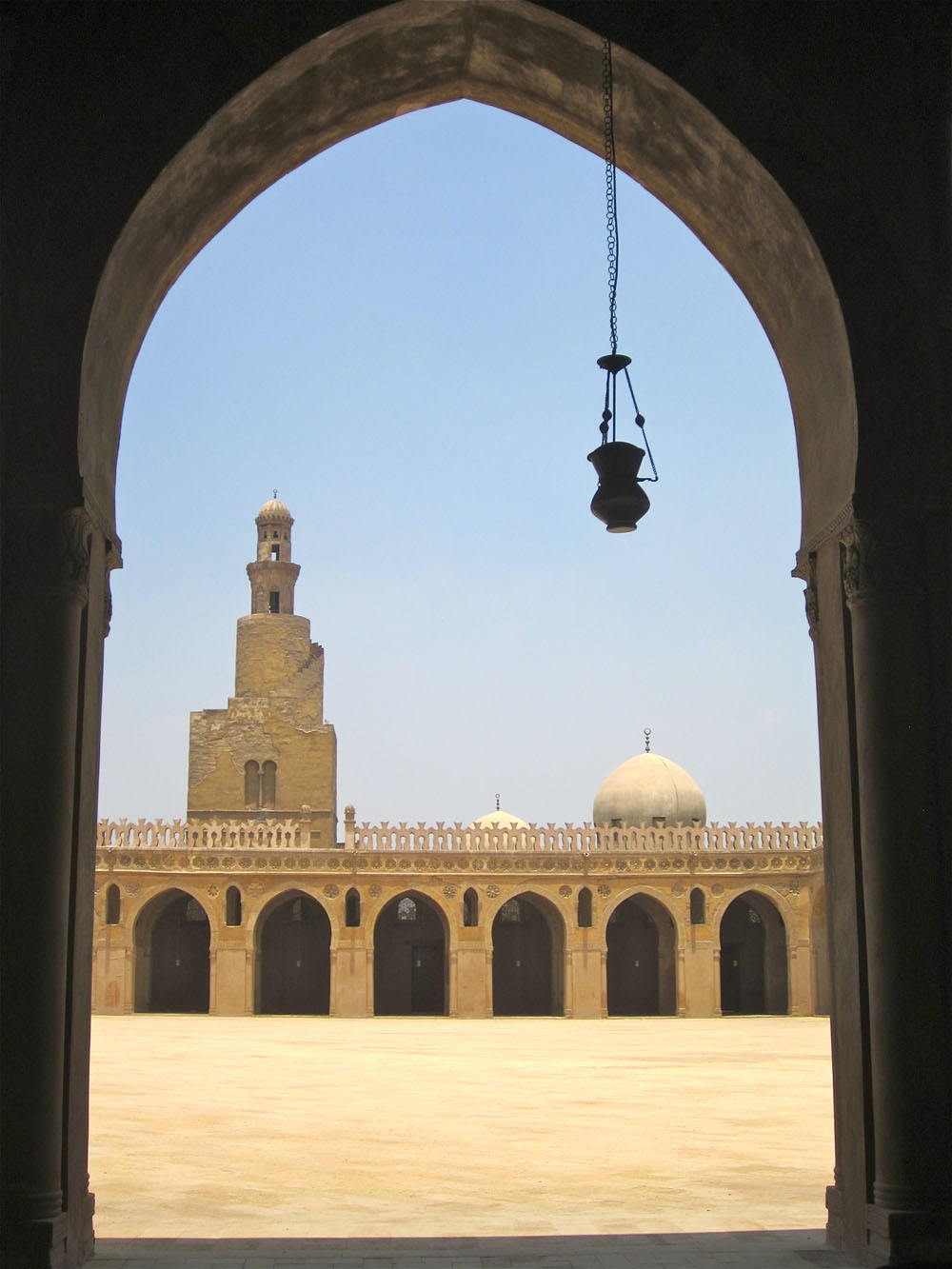 Mosque of Ibn Tulun (c. 879)
Constructed of mud brick just 200 years after the Arab-Muslim conquest, a reassuring symmetry graces Ibn-Tulun, the oldest surviving Islamic mosque in Egypt. Its unique minaret with a spiraling external staircase was modeled after the ancient mosque of Samarra in Iraq.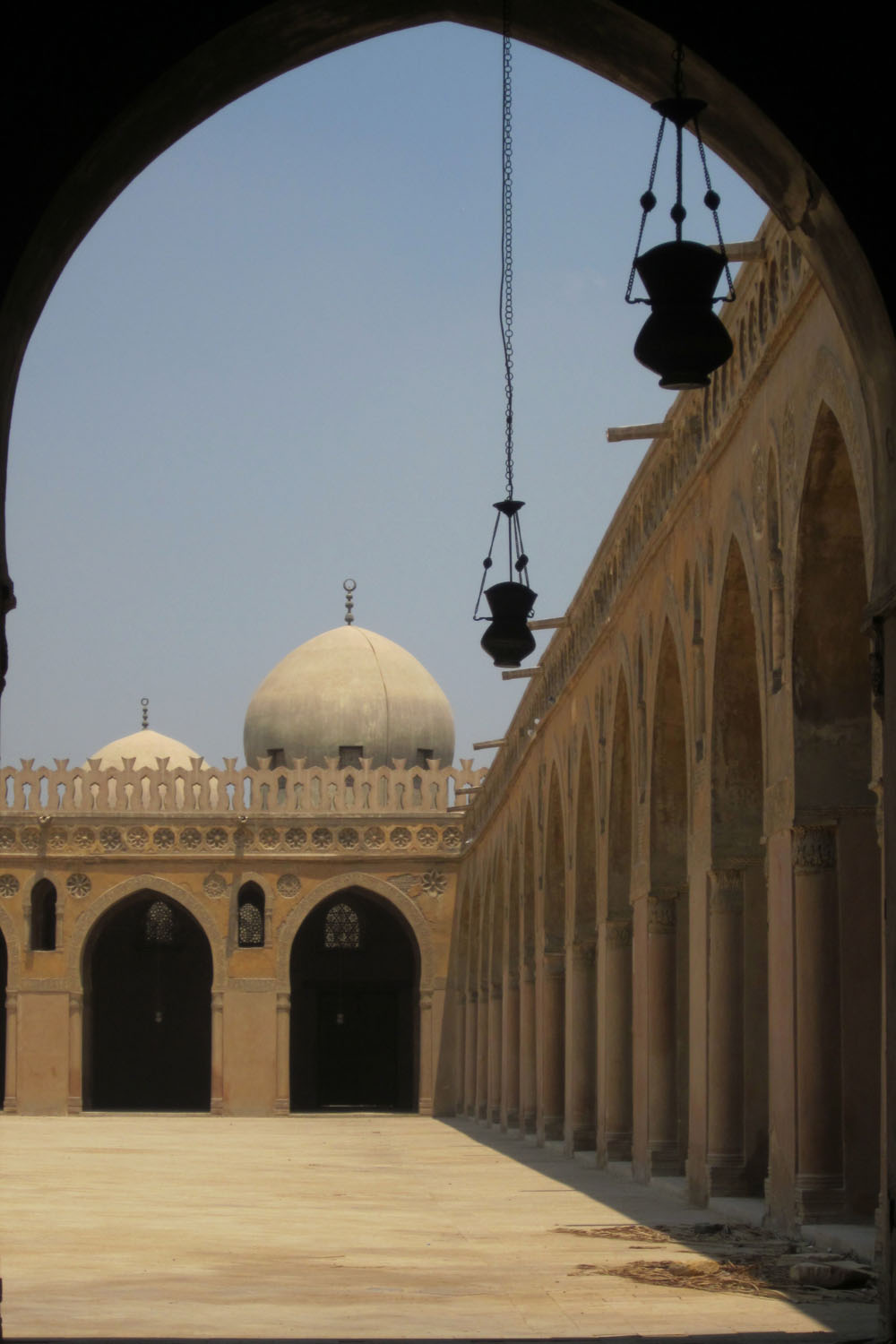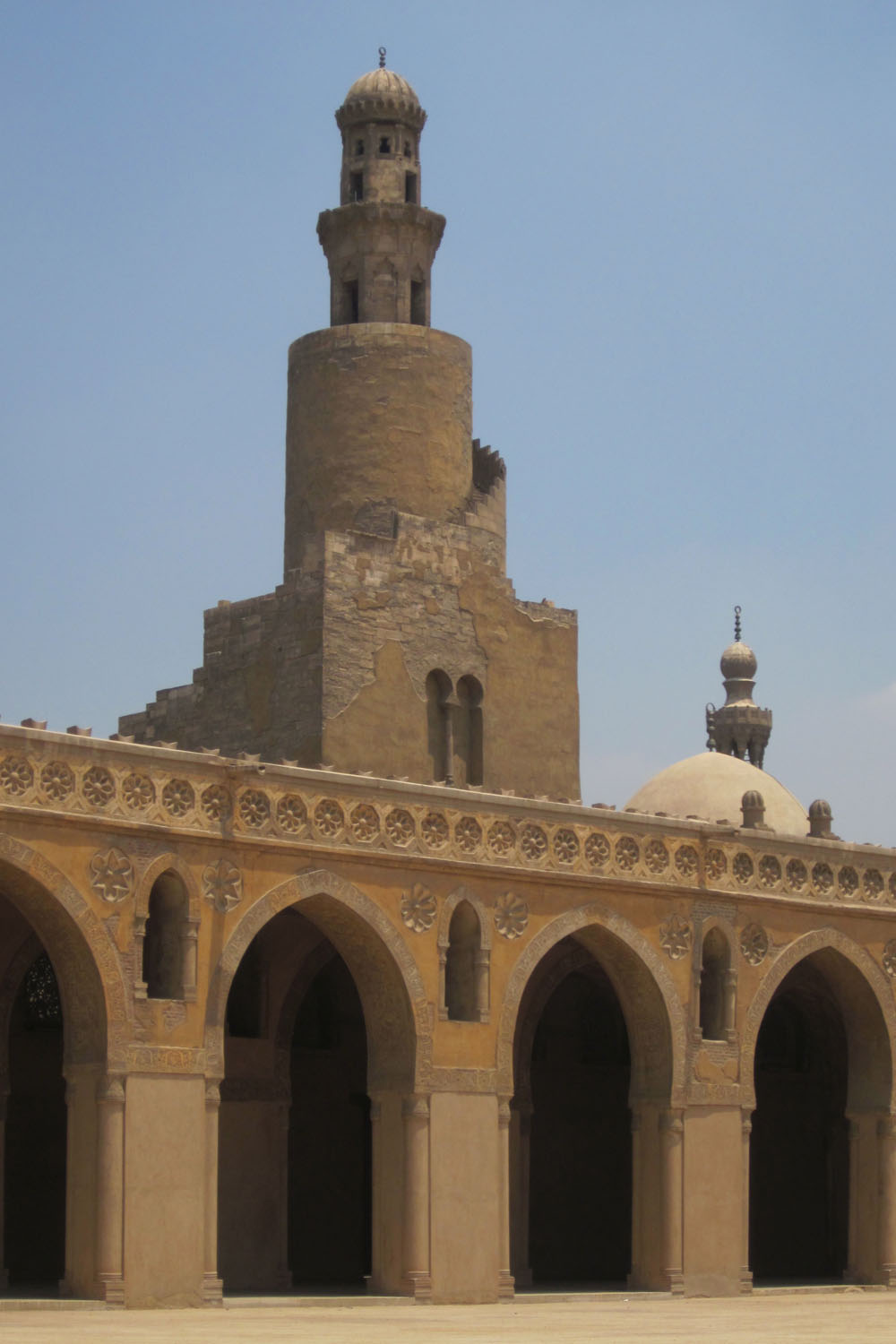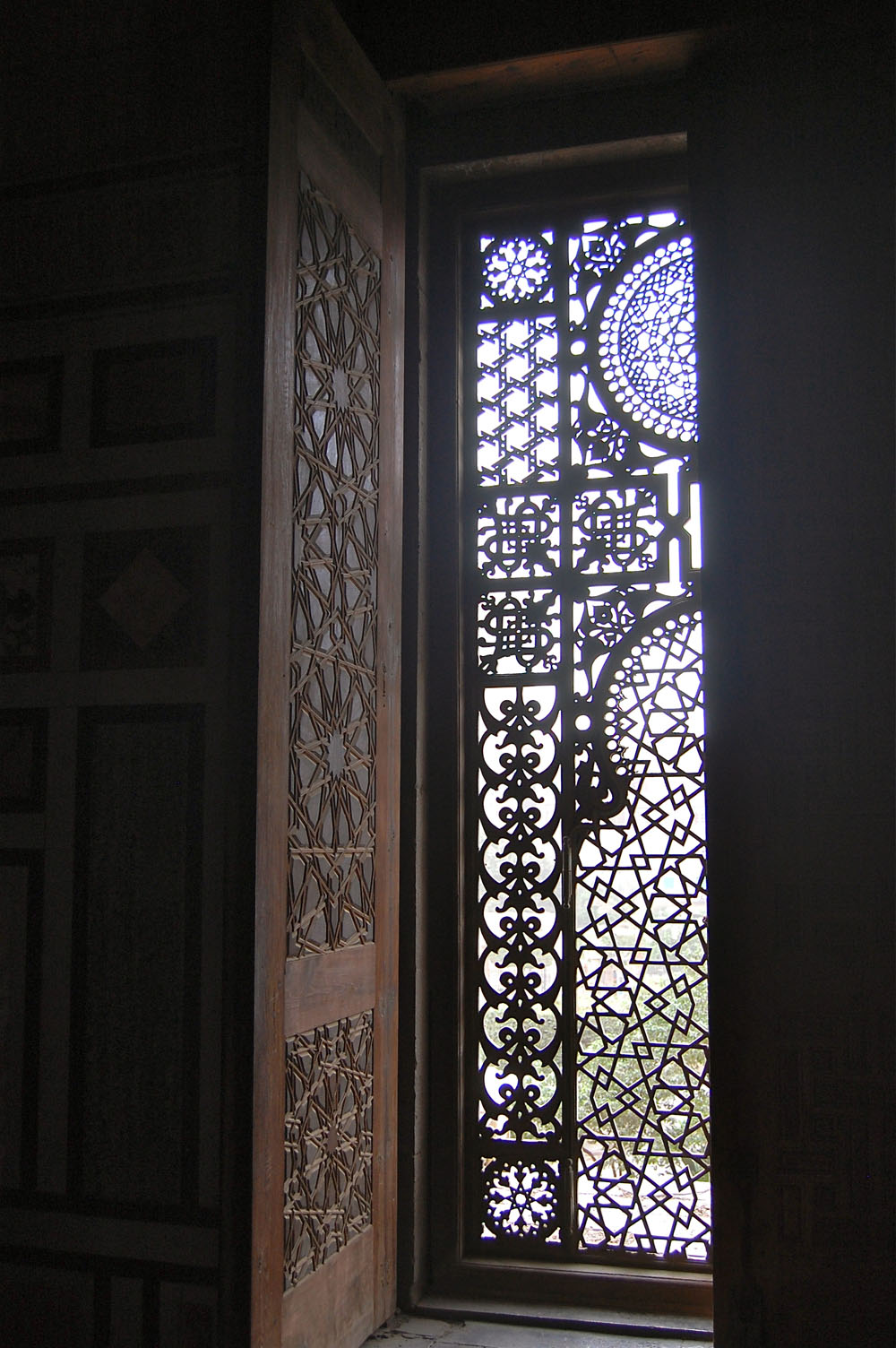 Mashrabiya
A traditional element of Arab-Islamic architecture, the intricately carved geometric and arabesque patterns of mashrabiya (latticework screens) fuse privacy, ventilation, decoration, and shade with a view to the street below.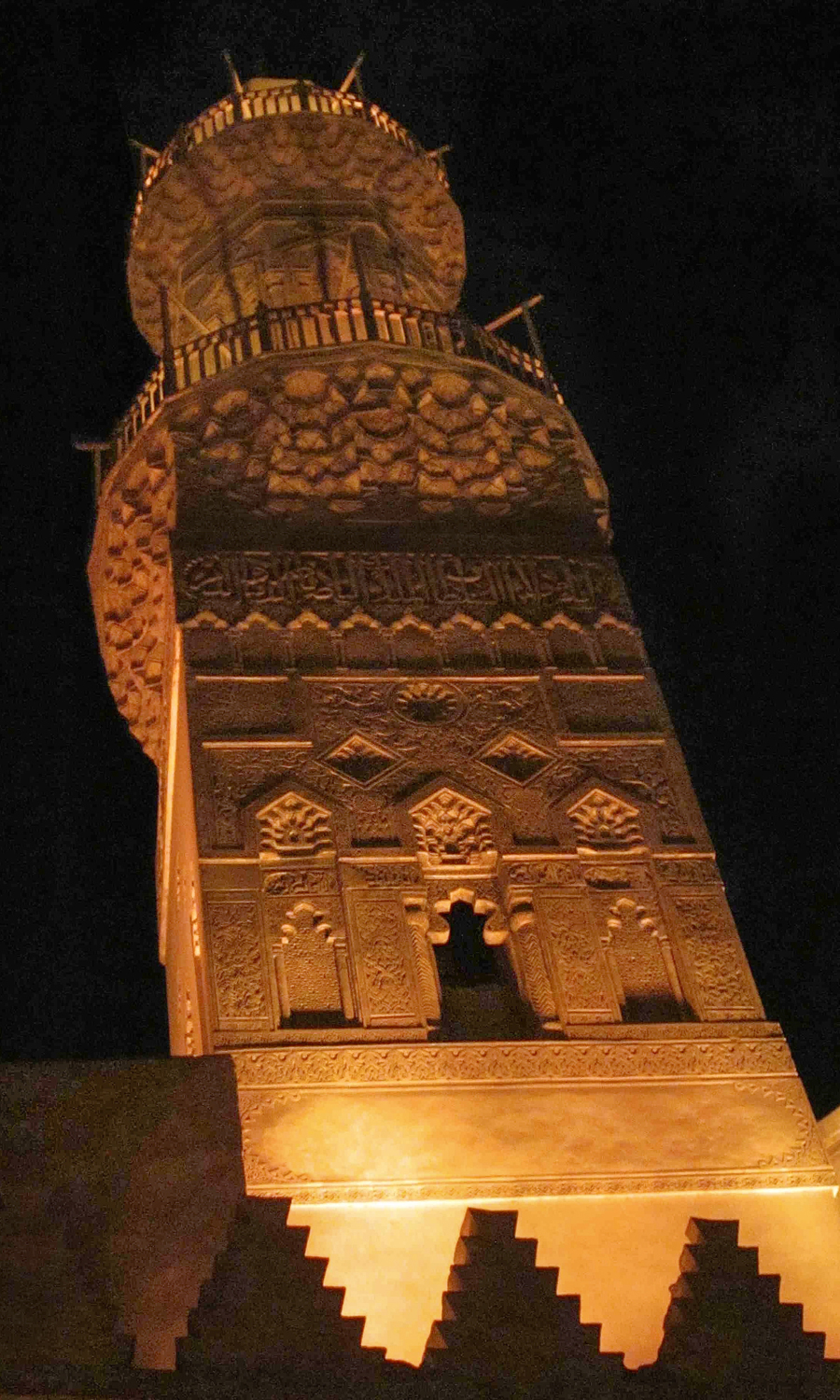 Minaret in Islamic Cairo (c. 1284-1285)
Magnificent medieval Islamic architecture lines the cobblestoned pedestrian way of Al-Muizz Street, one of the oldest in Cairo. The Qalawun complex, an example of Mamluk architecture, is one of the most beautiful, and includes a madrassa (religious school) and mausoleum.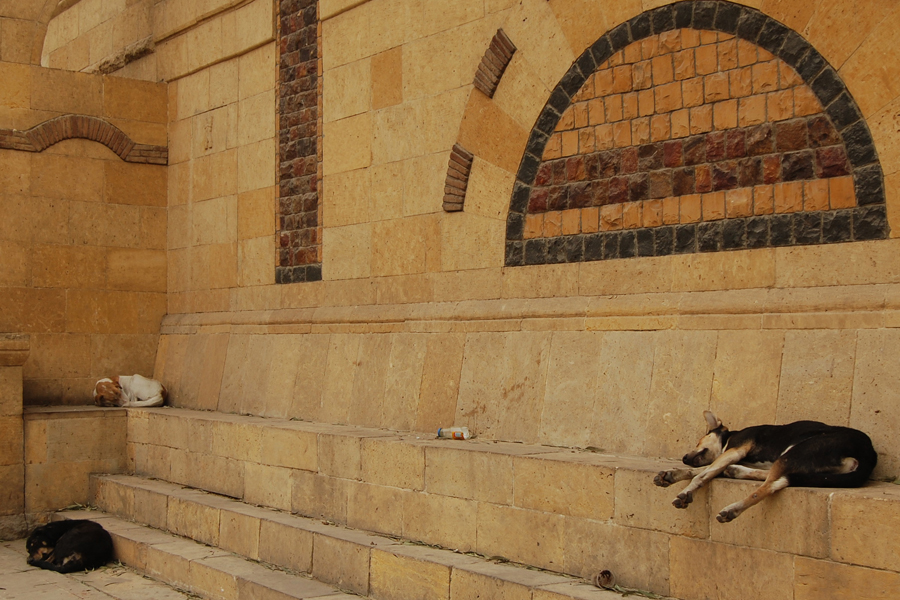 Street dogs near the Church of St. George
Dogs are considered "ritually unclean" in Islam and are not welcome in most Muslim homes. Sporadic efforts to reduce Egypt's estimated 1 million stray dogs have helped assuage public health concerns, but garner criticism from animal welfare activists. Government veterinary services are now considering sterilization programs.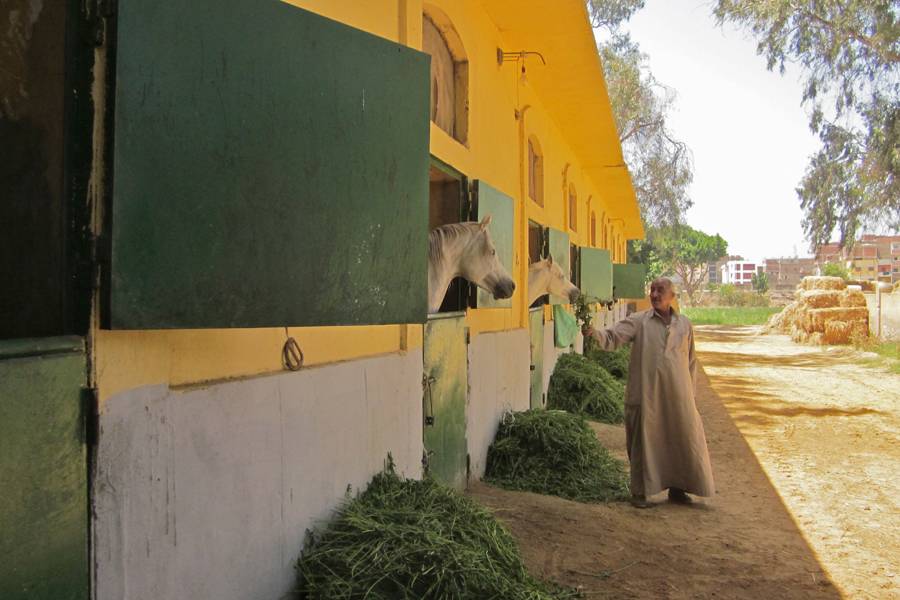 El-Zahraa Arabian farm, Heliopolis
Heaps of berseem clover mirror the doors of the stud barn at El-Zahraa farm in a suburb of Cairo. A national registry of pure Egyptian Arabian horses is maintained by the Egyptian Agricultural Organization to promote and preserve the breed. With more than 200 breeding mares and foals, Zahraa has its own veterinary clinic.